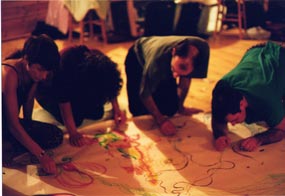 MAHATMA GHANDI SAID:
"WHAT YOU DO MAY SEEM
INSIGNIFIGANT, BUT IT IS IMPORTANT THAT YOU DO IT."
If you would like to add to our communal effort, or if you would like to sponsor a workshop in your area, please email us using the "contact us" link on each page, or phone at 514-484-9314. We are setting up day or weekend workshops, as well as special projects for schools.

Our intention is to inspire people to create peace in their own particular way. Each individual voice is important.

Mandala Project for Peace in the Middle East
Ongoing in Montreal
Here are projects we are presently working on, that welcome your participation. As our latest project is called As We Are. We are not seeking to influence or to inflict any viewpoint on anyone else, rather, to listen and accept each other as we are. This begins on a personal level and extends to acceptance of those around us.
The Concept:
The Tikkun Olam
See
www.innerfrontier.org/Practices/TikkunOlam.htm
Isaac Luria, the renowned sixteenth century Kabbalist, used the phrase "tikkun olam," usually translated as to "mend, repair, and transform the world",and a Sufi story on humility -how one tiny light can be a light that can change the world. The Christians also use the idea of light unto the world.
We will be creating 99 pots based on the 99 names of God in the Muslim tradition, the 72 names of G-d in the Jewish tradition, and the angels and archangels in the Christian tradition.
We will be creating over 99 pots, each with a tiny light and incisions and inscriptions creating holes to let the light out. It is the idea that our humanness or broken areas create the cracks that let the light out. They will be placed in the form of a mandala (sacred circular artwork.)
These will be accompanied by personal stories of brokenness- prejudice, pain, and healing.
We will also be going into each other's communities and photographing and witnessing each other's lives.
Musicians will be working together to create a concert which will be recorded for a CD
.
An EDUCATIONAL PACKAGE will be produced to go into the schools to help reduce prejudice and hate crimes.
The As We Are group will meet every two weeks to create communal artwork, do the Dances of Universal Peace and Dhikr, (prayer through movement and song.) Made of Jewish, Muslim and Christian groups with supporters and born of the Meeting in the Middle Group, we will be exploring and working together towards an exhibition at the McClure Gallery creating communal artwork.
If you are interested in joining us, please email helgaart@sympatico.ca
or Call 514 484-9314 for more info.
Events
As we are - Bringing together Jewish, Muslim and Christians
first week of September 2010
An exhibition and concert bringing together Jews, Muslims and Christians for Peace in the Middle East.
Held the first week of September 2010, we will create work based on the 99 names of God in the Muslim tradition, and the 72 names in the Jewish tradition. We are presently waiting to hear for the final OK from Heritage Quebec for the funding.We will be working on this event every week for several months at the Visual Arts Centre, where we will be exhibiting, (McClure Gallery) and having the concert. We are also talking to the United Nations about the possibility of having an exhibition there.(New York).
Illumination - Art Exhibit at the United Nations Secretariat Building
New York, January 15-26 2007
The UNSRC has graciously invited us once again to exhibit sculptural lights and multimedia artwork created by our mostly Israeli/Palestinian group from the Meeting in the Middle Project.
The lights were created from hand-made paper made by tearing up Israeli and Palestinian newspapers. We read, discussed, and translated the headlines with compassion and seeking understanding. Each person then added words and/or photos and personal mementos of their past, and we placed lights inside the sculptures to illuminate them and remind us of our unified beginning.
We will also exhibit a large 12 ft Mandala made for the International UN Conference on Climate Change in Montreal, and presented to UN delegates. Mandalas made by the Baraka/Brucha group will also be present!
English Montreal Language School Board
The schoolboard has agreed to integrate the mandala project into the school system!
Below is a description for the first workshop for teachers:
A hands-on, cooperative workshop for all educators interested in classroom management through art, multiculturalism, peace education and non-violent communication.
We will address power struggles, burn-out, lack of confidence and motivation in our students and teachers, and explore concrete steps to create an atmosphere of peaceful cooperation. Utilizing a UN model for peace in the classroom, there will be dialog and group discussions.
The main focus of this workshop will be the creation of a large-scale communal art project (a mandala wall-hanging) on the theme of cooperation. Participants will leave with handouts and questionnaires to bring back to the students and to the principal.
The first workshop will be held Nov 23, 2006. in Montreal.
Meeting in the Middle in New York
United Nations Secretariat Building , New York City.
March 22nd 2006 A presentation by Helga was given about the Meeting In the Middle group (comprised of Israelis and Palestinians-Arab/Jewish) for the UNSRC and public at the UN Secretariat.
École Polyvalente Curé-Mercure
March 21st & 31st, 2006
Working with the Native Community, we are integrating the concept of the dreamcatcher and the medecine wheel with the mandala.
St-Agathe High School mandala workshop
March 6th, 2006
Working with the Native Community, we are integrating the concept of the dreamcatcher and the medecine wheel with the mandala.
Music and Satsang
April 7th, 2006.
Satsang means communion with the truth.
Come and share together. Let us remember who we really are, release pain and difficulties and celebrate..through talks, question and answer, music, and spiritual excercises. This event is free and open to all.
2209 Oxford Ave 7pm
(between Sherbrooke and De Maisoneuve)
metro Vendome
514 484 9314
Exploring the Elements of Peace
July 11 – 17, 2005
Creative Arts for Peace Camp
Claymont near Charles Town, West Virginia
1 hour from the Washington, D.C. area & airports
PeaceDance.org
What would be the perfect family environment for a family retreat-vacation-adventure? Or a perfect time for renewal for dancers, therapists, educators and artistic types?
The Creative Arts for Peace Camp staff has been planning a delightful summer camp with this in mind, and would like to invite you and your family to enter into this adventure! This is a perfect opportunity for families to spend creative time together, as well as enjoying special times apart.
Families room together, as well as enjoy meals, open times, the early evening programs, afternoon workshops and art studios for families, and free-time exploring nature and the river nearby. In the mornings, children, teens and adults have separate programs.
Many teachers will be present, including Helga Schleeh, who will be sharing the Mandala Project with this wonderful group in this perfect setting. Come and join us!